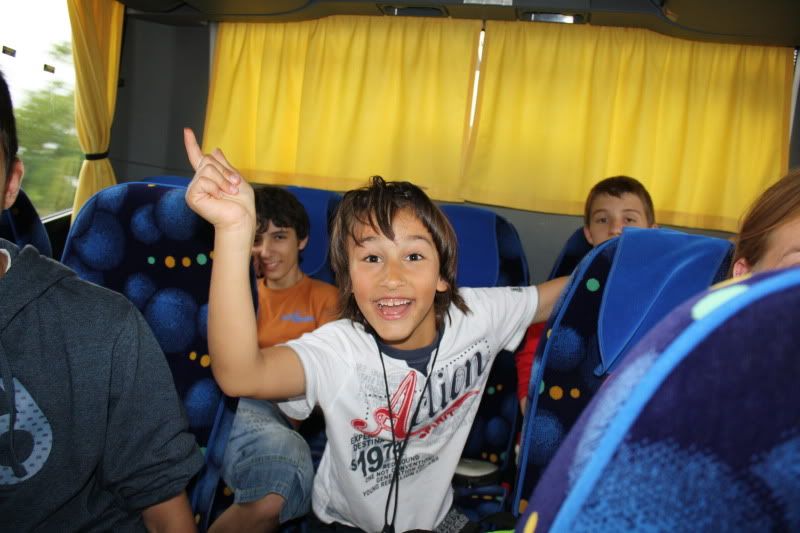 The boys having fun on the charter bus to the Black Sea
Greetings Bullhead City and all parts America! Today, we arose at five in the morning and boarded a charter bus for Chernomoretz on the Black Sea. The 7-hour journey took us across the entire country of Bulgaria to its eastern coast in a bus filled with excited, sugar crazed kids, many of which speak hardly any English yet managed to communicate with us the entire way. We drove in rain for the majority of the way, and it is pouring down at the camp as I speak.
Rain, rain, go away...
We have arrived safely at the camp on the Black Sea where, after a short walk to the beach with the kids, we returned for dinner and the evening service. Worship was led by one of the Bulgarian women on guitar and Roy and I had the opportunity to accompany her on percussion instruments. The theme of the camp this week is Trusting in God, and Niki Dragonov of the Blaga Vest church delivered an opening message on the theme from the life of Abraham.
Please keep the camp in prayer, especially for the weather. Many of our planned activities are outdoor events so we need clear skies. Pray for the team as each of us will be teaching God's word throughout the week, as well as coordinating and participating in other activities.
Also, pray for Pastor Chuck and Lynda as they travel to the camp from Gabrovo tomorrow. God bless!!